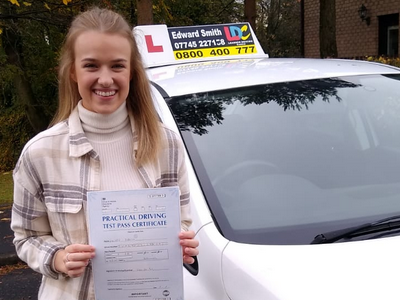 Kristy
Passed 1st Time!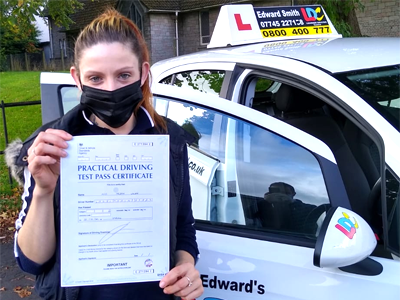 Arlene
A very good drive!
Edward, I honestly can't thank you enough for all your help throughout my driving lessons. I couldn't have asked for a better instructor, and you have the patience of a saint! Thank you!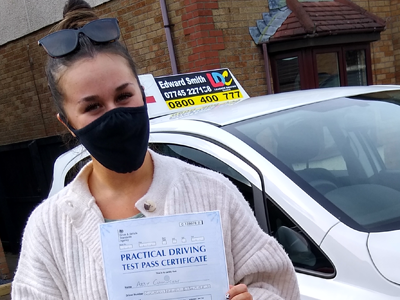 Abby
A very good drive!!!
I would definitely recommend Edward, he made me feel so at ease whilst learning. Having been with a different instructor before he adapted well and helped me regain my confidence, making me the best driver I could be. He is so patient and understanding. Thanks again!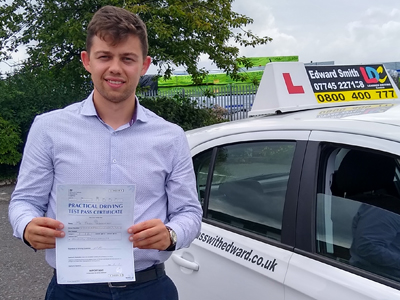 Pavel
NO minor faults - a PERFECT drive! (Emergency Key Worker Test!)
That was really well done, Pavel! When I was speaking to the examiner at the end of your test, she said your driving was excellent - she was very impressed! -Edward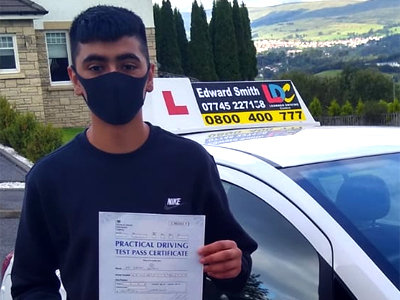 Romy
Passed Easily - Emergency Key Worker Test
Edward is a brilliant instructor who helped me learn to be safe on the road, as well as helping me pass my test. He would explain every topic thoroughly until I was completely comfortable with it. He made my lessons fun and enjoyable as well as creative. I would definitely recommend Edward to everyone! Thanks for everything Edward :) Romy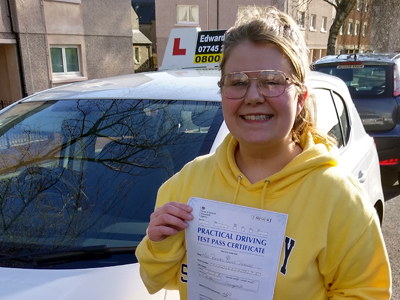 Rachel
A PERFECT DRIVE - NO MINORS!
Edward, thank you very much for helping and teaching me to drive!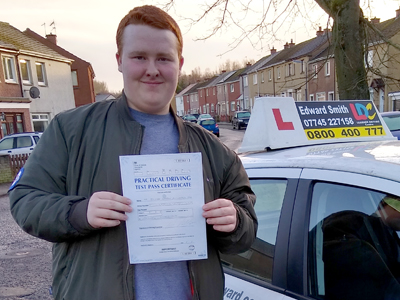 Jonathan
First time pass with only two minors
My favourite part of the week was going into a store after my test on the Friday to buy some 'P' plates. The woman at the checkout asked, 'Hang on, didn't I just sell you 'L' plates on Monday night?!'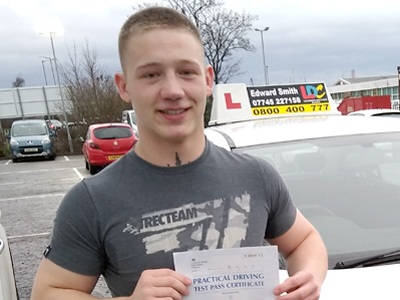 Hayden
1st time pass with no minors
Everyone I'd spoken to about learning to drive all had one thing in common: they hated their instructors! Due to this, I feel like I found a needle in a haystack with Edward. He couldn't have been more friendly, and was always very constructive with his comments. This allowed me to learn quickly, as I never felt like I was in a hostile environment. I hated school due to the way you were treated as less than because you were a student, and not a teacher. This was never the case when learning to drive with Edward.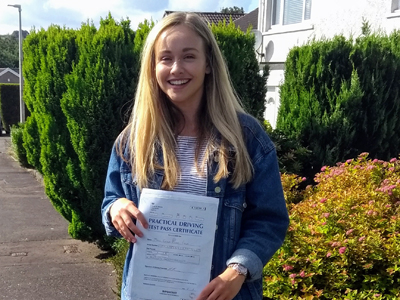 Emily
Passed easily! (Only 2 minors!)
For someone who was nervous to start driving I thoroughly enjoyed my lessons with Edward. He was extremely supportive, patient and knowledgable as well as great to get along with. He was able to adapt and explain things in a way that was easy to understand and allowed me to build confidence with driving. Edward's focus was always on how to be a safe and sensible driver; not just to pass the test. I would definitely recommend him to other learners.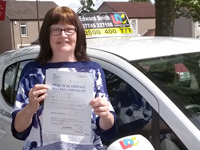 Elaine
Being an older learner my first-time nerves soon disappeared thanks to Edward. He is very patient and his relaxed style soon had me looking forward to my next lesson. He taught me every aspect of driving and was quick to give me some great tips that helped me improve my driving skills. He supports you every step of the way until you are ready to take your test. Nothing is too much trouble and his great sense of humour and enthusiasm made lessons fun! It was more like learning with a friend. If you are looking for a great instructor (Young or older learners) I would recommend Edward 100%. Thank you Richard!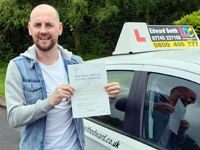 Jamie
Sailed through 1st time!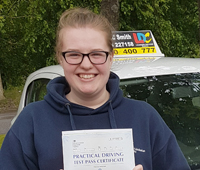 Rachel
1st time pass! Well done!
Passed first time with Edwards help!! Only got 3 minors. He was so patient with me and explained things more than once and in different ways until I understood. Thanks, Rachael.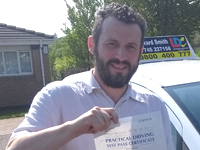 John Paul
Passed easily - a really great result!
Thank you Edward. As an older learner (and after a gap of 28 years since my first attempt) a few things had changed. As you age, rather than just driving, a tendency to over analyse sets in. Generally we become more risk averse. If you are an older person learning to drive or thinking about taking the plunge, Edward has the skill set to get you driving. Patient, and more than prepared to discuss everything, Edward will soon have you up to speed and out on the motorways concentrating and talking as in real life. Thank you Richard I am very grateful.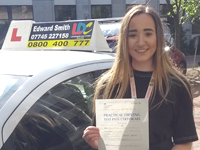 Rhianna
Passed first time - easily! (Only 3 minors)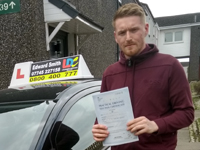 Gary
Started on Monday and passed 4 days later (1st time and with ZERO minors - a perfect drive!)
I booked a 20 hour course with Edward. He was flexible and we spread the hours out how I wanted (over the course of one week). He helped me to get ready for the test and we fine tuned my driving until it was at a great standard. Overall, it was a very comfortable week, and I always felt at ease in the car. Thanks, Edward!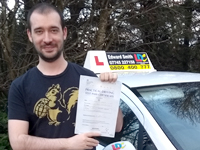 Kevin
Passed on 1st Attempt!
Edward has been huge help to my success in passing my test with weekly lessons. He made it easy to arrange appointments for lessons around my work hours. Very sociable and easy to get along with and provides support for lessons where needed. When it comes time for friends and relatives to learn I will of course recommend Edward to them.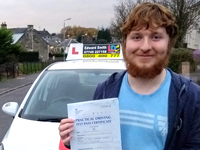 James
Brilliant Result!
Edward is a great instructor and I would recommend him to anyone, He was really patient, informative and very helpful. I couldn't have done it without him, he's just a really nice guy.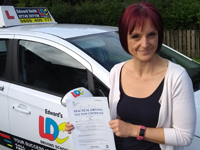 Christine
Easily passed 1st time!
I would highly recommend Edward as an instructor. Being an older learner I felt a bit lacking in confidence. Edward was calm, encouraging and put me at ease. Can't thank him enough. Thanks for your patience. Christine.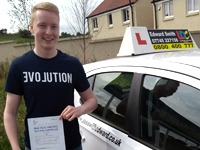 Gavin
Passed with only 2 minors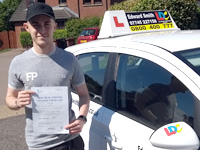 Jack
Sailed through!
Would highly recommend Edward for driving lessons, he is very patient and understanding and always helps you to understand anything you're not sure about. Thanks Edward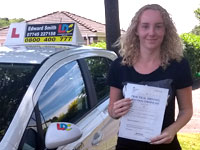 Chloe
Passed with only two minors
I really enjoyed my lessons with Edward. He is a very calm and patient person, which also helped me stay calm when on the road. I will definitely recommend him to anyone who is learning. Passed with two minors. Thanks again Edward!
Sophie
Passed 1st time
Passed my test first time with only 2 minors! great learning with Edward he was very helpful and patient. definitely would recommend.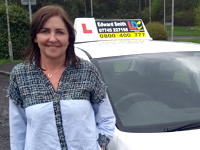 Pauline
Passed 1st time
I have had other instructors in the past but I can honestly say that Edward's kind patient and understanding nature helped me pass my test. His teaching skills are unique , combine this with his nature he makes a great driving instructor. I would highly recommend Edward as your first choice when selecting your driving instructor. Big Thanks again Edward.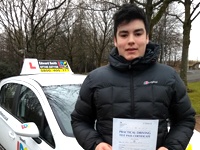 Mark
Passed the test with only 3 minors
Fantastic! Thanks for everything Edward!!
Jennifer
I'd recommend Edward to anyone who's struggled to learn to drive in the past... I tried a few instructors whose approach didn't really work for me but found Edward's patient and flexible attitude really made lessons enjoyable. When I was struggling with something he was always able to offer more than one way of doing things which was a great help! A genuinely nice guy with seemingly limitless patience :)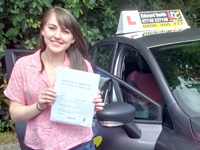 Carly
I started lessons a little later than most and struggled a lot with confidence. Edward's warm, friendly and gentle approach put me at ease straight away. Driving wasn't something that came naturally to me but Edward was always really positive, encouraging and patient. He was always willing to offer useful tips and suggestions when I was struggling with something and was genuinely keen to help. Lessons with Edward really helped me to work on my driving skills and build my confidence. He is a great coach and I would highly recommend him to others! Thank you so much for all of your support Edward ??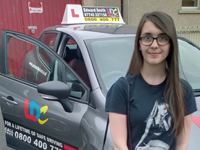 Emma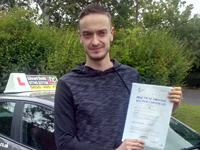 Lewis
I would highly recommend Edward to anyone who is looking for a driving instructor. He is incredibly patient and made every lesson pressure-free due to him being so easy to get along with. He was brilliant when it came to answering any questions I had about driving and provided great explanations when it came to fixing any mistakes that I made on a lesson. Overall I thoroughly enjoyed the lessons I done with Edward and I am delighted with the standard of driving he was able to get me to.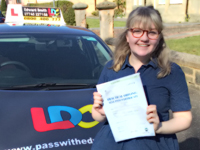 Joanne
Passed First Time!
Edward is a brilliant instructor. I've been trying to learn to drive on and off for about five years but was finding it really difficult due to anxiety. Edwards friendly, jokey attitude made me relax during lessons and I ended up passing first time! He will always ask what you want out of the lesson and create the lesson around you.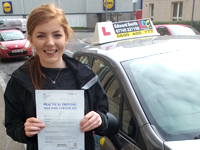 Amy
Passed 1st time! (Only 1 Minor)
Lessons with Edward really helped me get my confidence back up after not taking lessons for well over a year. He was very relaxed and patient and I always really enjoyed the lessons. I felt really prepared for my test and passed with only one minor. - Thanks again for all your help, I really appreciate it! 😊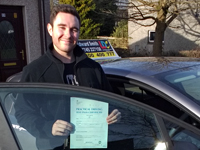 Michael
A brilliant drive!
Edward is a really easy-going guy who has a lot of patience for learners. He can take away the nerves and make you feel as though you are driving next to a friend and all the while you're still learning. He has exceptional skills in communicating the rules of the road with inexperienced drivers to help you understand what you need to do. Would recommend: 10/10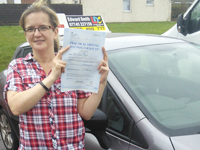 Nadia Doyle
I decided to take the intense one week driving course with my practical test at the end of the week. Being nervous and anxious about the week and the test I was relieved to find Edward friendly, calm and he put me at ease from the beginning. He has been patient and thorough when explaining the manoeuvres and driving skills and helped me to pass my practical test first time! Thank you Edward!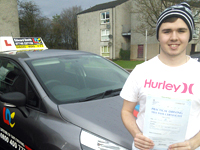 Connor
Easily passed 1st time!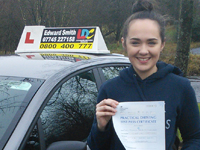 Jessica
Passed first time - very easily!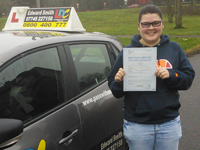 Rayne
Easily passed 1st time!
I would recommend Edward to anyone! I was in an accident t on my moped but Edward helped me to build my confidence back up with driving and today I passed first time. He was always so calm throughout each of my lessons with him and explained everything. So calming having him as an instructor, greatly thankful for all the time he's put in to help me pass!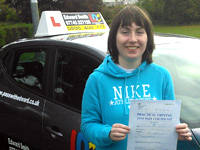 Katherine
A very good result - well done!
Edward is a fantastic and enthusiastic driving instructor. He supports you through your development as a driver from beginning to test success. He has a great sense of humour and is easy to learn from. I would not hesitate to recommend Edward as a driving instructor!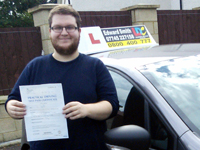 David Seaton
Passed first time and with no minors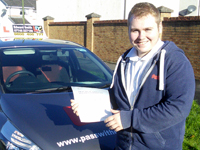 Robert Harris
Passed 1st time
I highly recommend getting your driving lessons with Edward. He is always happy to help you with anything you are struggling with when leaning to drive and never gets annoyed or impatient if you can't get something right and will keep you at ease the whole time understanding you may be nervous. I passed 1st time and we always had good conversations on every lesson.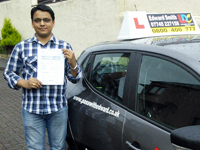 Amit
Passed Easily
Well done Amit!
David Easton
Passed after taking a Course
I have nothing but great things to say about learning with Edward. From the very first lesson until after my test I always felt comfortable and confident in the car with him. The atmosphere was very relaxed and progress in my driving was quick. Would highly recommend to anybody. Thanks Edward!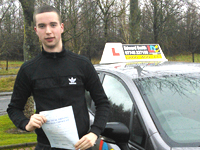 Jack
I would highly recommend Edward. He's an easy going guy and does his best to help. Overall, I had a really good experience learning to drive with him.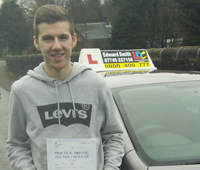 Paul
Passed 1st time
It was a pleasure doing my driving lessons with Edward. From the start he took the pressure away from driving to the point where I didn't have to be nervous about my lessons. It was a calm and relaxed atmosphere throughout and I will recommend Edward to anyone wanting to start driving. Thanks Edward!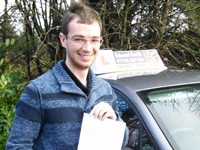 Ryan
Edward is a great instructor. I was always nervous about stating to drive but Edward helped me get over those nerves and become more confident in my ability to drive. :)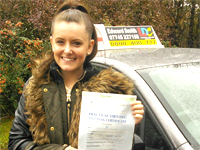 Amber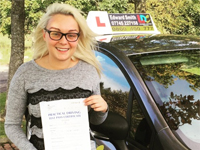 Amy
Edward was my driving instructor for around six months while I learned to drive. He was patient, very easy going and has a great method of teaching. He made the lessons very enjoyable for me as I tend to get very stressed and impatient when it comes to learning new things but overall it was a great experience and I ended up passing first time ! Thanks again Edward :)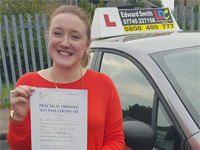 Erin
Edward was brilliant. He made me feel completely at ease and within a few lessons my nerves were gone. He explained everything really simply and I never felt under pressure. Edward was always really encouraging and made me look forward to my lessons instead of dreading them which was a big deal for me. He is a great instructor and I would recommend him to anyone who feels anxious about driving. Thank you Edward.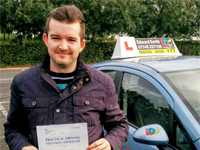 Stuart
It was a pleasure having Edward as my driving instructor, he makes you feel very relaxed and not matter what obstacles appear Edward approaches each section in a fun and easily understandable way to help you get to the professional standard of driving required to pass the test.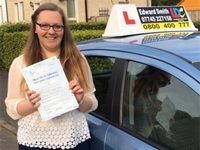 Amy
I had a good few lessons with another instructor which didn't work out too well. I ended up giving up for about a year before contacting Edward for a review lesson. I was really nervous but Edward reassured me that I was pretty much ready to drive independently. I have had only a few months of lessons and I've already passed my test. Edward is a great instructor, honestly you won't find a nicer guy. He's always willing to help you out, whether that's help with theory or driving questions. I struggled with reversing left but after a lot of help and support from Edward I've finally managed to ace it every time I attempt it. If you're looking for an instructor that's easy to get along with, not at all strict and offers support whenever you need it. Edwards your guy. Can't thank him enough for all his help!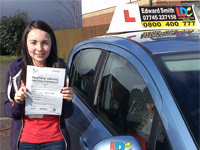 Melissa Fanton - Cumbernauld
First time pass
I couldn't have asked for a better instructor to help me pass my test. Edward always gave necessary advice where needed and of course praise too. I couldn't have passed without his help and highly recommend him for anyone looking for an enjoyable driving experience.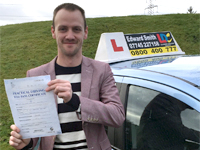 Gareth - Kilsyth
Passed first time
I booked a 20 Hours Semi-Intensive Course through LDC and Edward was allocated as my instructor. I will be recommending Edward to everyone I know looking to do their lessons and test. From the first moment I go into the car he ensured a calm and relaxed atmosphere. He identified my strengths and weaknesses and then worked on my weaknesses to bring them up to test standard. The time from starting lessons to passing my test was a total of three days - I had a lesson on Monday & Tuesday and then passed my test first time on the Wednesday morning. Edward is a great instructor - he is patient, understanding and works with and not against you. Thanks for everything Edward - I am loving my new car and can't wait to get the roof down!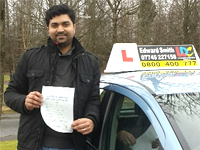 Omer - Cumbernauld
First time pass
I am Omer and I have just passed my practical driving test on 27-01-2015. I have learned and enhanced all my driving skills and confidence under the supervision of Edward. Here I would like to take this opportunity to thank Edward for his dedication, devotion and extremely positive attitude towards the profession - even minor issues are handled with persuasion and great judgment. Edward has helped me to pass within a period of 10 days and he is exceptional in his teaching and coaching skills. Thank you so much Edward - the first person I will recommend you to is my lovely wife and the list will go on and on.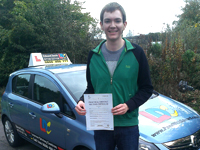 Andrew - Cumbernauld
1st time pass 2 minors
From the start, Edward and his relaxed, but focused, teaching style put me at ease with driving.Any mistakes or mishaps along the way were fixed quickly with reassurance - rather than letting me dwell upon the problem. This approach, alongside the informative and progressive LDC materials, helped me to feel very confident driving and ultimately pass first time. Thank you Edward for all the help, you were a brilliant instructor!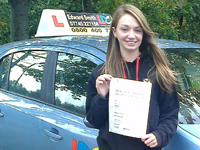 Nicole - Cumbernauld
1st time pass 4 minors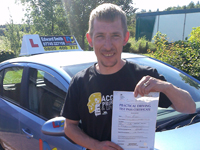 James
1st time pass 4 minors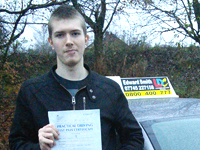 Lewis